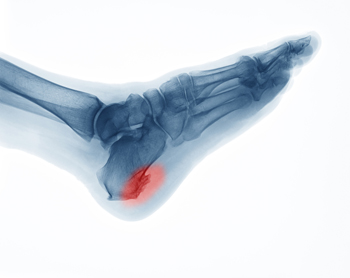 A heel spur is a growth of bone that forms from extra calcium deposits on the foot and that stretch from the heel bone to the foot arch. It is one of the most common causes of heel pain. Heel spurs are a quarter of an inch in length or smaller, though they may become larger in some cases. They cannot be seen from outside of the body but can become quite painful, especially when jumping, running, or walking. There may be swelling of the heel and ankle with heel spurs. Some of the primary causes of heel spurs are ill fitting or non-supportive footwear, wearing high heels, bruising under the heel bone, poor posture or other physical structural issues (such as flat feet or high arches), or being overweight or obese. Other possible causes are having a pre-existing medical condition, like diabetes or arthritis, over-training, repetitive hard impact or pressure on the heel, and aging with calcium leaving the bones and settling into the bloodstream and attaching to the surface of bones. Women are more prone to developing heel spurs than men because their hips are naturally wider in comparison to their knees which causes additional pressure to be placed on the heel with movement. Routine foot care and exercises to reduce ligament stress and relieve bone tension will help invigorate heel tissues, but sometimes surgery will be required to remove a heel spur. If you have a heel spur and it is causing pain and interfering with your functioning, consult with a podiatrist who can recommend the best course of treatment.
Heel spurs can be incredibly painful and sometimes may make you unable to participate in physical activities. To get medical care for your heel spurs, contact David Mansky, DPM from Mansky Podiatry. Our doctor will do everything possible to treat your condition.
Heels Spurs
Heel spurs are formed by calcium deposits on the back of the foot where the heel is. This can also be caused by small fragments of bone breaking off one section of the foot, attaching onto the back of the foot. Heel spurs can also be bone growth on the back of the foot and may grow in the direction of the arch of the foot.
Older individuals usually suffer from heel spurs and pain sometimes intensifies with age. One of the main condition's spurs are related to is plantar fasciitis.
Pain
The pain associated with spurs is often because of weight placed on the feet. When someone is walking, their entire weight is concentrated on the feet. Bone spurs then have the tendency to affect other bones and tissues around the foot. As the pain continues, the feet will become tender and sensitive over time.
Treatments
There are many ways to treat heel spurs. If one is suffering from heel spurs in conjunction with pain, there are several methods for healing. Medication, surgery, and herbal care are some options.
If you have any questions feel free to contact our office located in Hastings, MI . We offer the latest in diagnostic and treatment technology to meet your needs.
Read more about Heel Spurs